ABOUT Pro Moving Services
Pro Moving Services is your premium moving service in Auckland.
We specialise in providing an easy moving experience that you can depend on.
Let us take care of your next move and you can concentrate on settling into your new space - and not worrying whether the mover will arrive on time!
Our Customers Love Us For A Reason - Why Not Find Out For Yourself?
Professional West Auckland Movers
LOCAL | TRUSTED | RELIABLE
When Only The Best Mover Will Do
We love to help our clients move across Auckland!
Whether you are moving from West Auckland to the North Shore or anywhere in between - our reliable movers will make the trip across Auckland stress free!
LEARN FROM THE MOVING EXPERTS
Over the many years of moving houses and offices across Auckland - we have learned a few nifty tips and tricks to making moving as easy as possible.
Take the time to read through our tips and help yourself to our list of the best moving tips.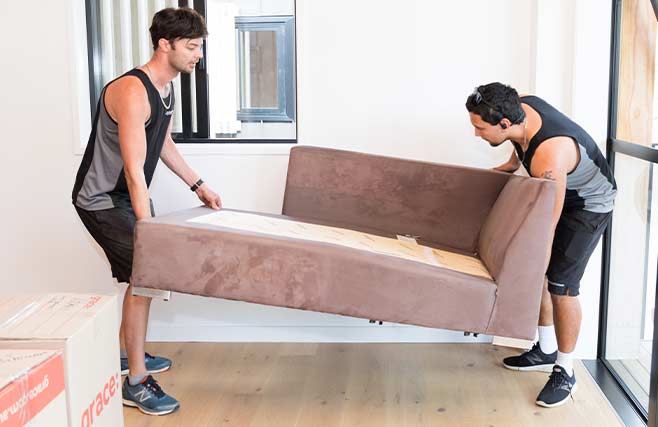 What Customers Say About Pro Moving Services
5-Star Moving Testimonial - Sarah
Jamie and Conrad are the real deal - such great guys, and they super fast, professional, friendly and efficient. They helped me out at short notice, maintained good communication and made the whole move no-stress and easy for me. I have already recommended them to friends! Thank you Jamie + Conrad 🙂
5-Star Moving Testimonial - Paula Young
Thanks to Jamie and his team, they made a very stressful time seem easy and seamless. He was professional, efficient and friendly. They moved a very large fridge thru a doorway with only millimeters to spare, conscious of the new paint in the house and effortlessly. I would recommend Jamie to my friends and he has already moved my parents gear to storage and we will be using him again to move from storage to a new house. Thanks so much.
5-Star Moving Testimonial - Luise 
AWESOME, PERFECT, PUNCTUAL, FRIENDLY, CARING, CONSIDERATE, STRONG & VERY PROFESSIONAL in all aspects of their communications & services from my 1st phone call to Jamie to the successful completion of the entire job. Every item uplifted & tansfered to our new location, than placed in allocated area/rooms were manouvered with extreme care & precision so nothing was in contact with the walls, entrance frames, rails, banisters, stairs, no matter how small & difficult the route is. I was extremely amazed & happy that I got them to help with our relocation as it was unexpected & my partner & I couldn't have done it without thier Awesome Professional Services. I personally & very highly recomend "Pro Moving Services Ltd - Jamie & Team" to anyone out there who requires such excellent professeional moving services I've had the pleasure of having in May 2019 and I will be contacting them for all my future relocating/moving jobs. I take this opportunity to THANK Jamie & Team and Wish them a Prosperous Future. Tino Pai...Much Appreciation...Faiaksea!!!

Luise&Dave

145 DeepCreek Rd

Torbay 0630
5-Star Moving Testimonial - Lianne
Jamie and his team were awesome! Super responsive, great communication and really professional. We had an awful lot of stuff (parents moving their house of 25 years into a storage unit), and the guys fit everything in two truck loads, and managed to get everything into the storage unit. Expert tetris skills at work! I wouldn't hesitate to recommend them.
5-Star Moving Testimonial - Nathan
The boys did a great job, very impressed. Efficient, quick and most of all very careful with moving all my furniture. Nothing was an issue, they know there stuff, would recommend them to anyone and definitely use them in the future.
5-Star Moving Testimonial - Vivienne
Awesome professional service and friendly too. I would recommend these guys. Many thanks. 
5-Star Moving Testimonial - LInda
Jamie was on time, had a big enough truck and enough help to get the pack in done quickly and efficiently. On arrival at the new house they were again efficient and careful with all our goods and furniture.
They even gave us a hand with a few extra pieces.
His quote was accurate and the job was done exactly how you would expect. Highly recommend Pro Moving Services.
5-Star Moving Testimonial - Ashley Marshall
Professional, on time, strong capable men, Careful with your furniture. Overall a smooth process.
5-Star Moving Testimonial - Graeme Kennedy
Excellent, professional, friendly service, and on time
5-Star Moving Testimonial - Bronwen
I was very impressed with the guys from Pro Movers who arrived on time and worked incredibly hard. Items were packed efficiently and in such a way as to avoid movement. I will certainly be using them again! Highly recommended!
5-Star Moving Testimonial - Debbie
Would definitely use this company again. Furniture was moved carefully with no damages. Very helpful and friendly. Nothing was too much trouble
5-Star Moving Testimonial - Charles
Did the job effectively and payment was easy
5-Star Moving Testimonial - Travis
Great service thank you. They were on time, moved everything securely and were a pleasure to deal with. Cheers
5-Star Moving Testimonial - Gina
Jamie & his team were utterly professional, fast, efficient and great rates.We had a big job and Jamie met the challenge right on the Easter break without any fuss. Always great to work with and would highly recommend. We will use Jamie again wherever needed.
5-Star Moving Testimonial - Bev
I have nothing but praise for Jamie & his co worker, im so sorry ive forgotten your name. I rang Jamie 2 weeks out from wanting to move. He said hang on il jst check my diary...yes we can do it. Jst like that all my stress disappeared. He gave me a quote on price & ... see u in 2 weeks. I got a confirmation email a day later & the day before i moved he txted me. They arrived on time & i was moving from Papakura to Waimauku. It took 3hrs 15mins to load up, drive & unload. Admittedly i didnt have a big houselot to move bt they were fast, efficient, courteous, & patient when i couldnt find my wallet with my carkey in it before we leff old address. There is nothing i have to fault them on. So i would recommend Pro Moving Services every time. I will certainly be keeping their number in my phone!! 
Kindest Regards Bev
5-Star Moving Testimonial - Gill
Pro Moving Services moved me twice, once into storage and then into my new house. Superb service, professional, fast, they took a huge amount of care putting my possessions into storage to ensure they were safe and well covered and ventilated. It was a pleasure to have them come back and move me into my new home, including them being able to problem solve the issue of getting furniture up a tight staircase! Highly recommend them!
5-Star Moving Testimonial - Wendy
I have moved a few time and Pro Moving Services moved me and I will say they were absolutely fantastic. They came in did the job no moans and groans, were really friendly and nothing was too much trouble for them. And the job was done in record time way faster and more efficient than any of my other moves. Highly recommend them. Thanks alot for the awesome service
5-Star Moving Testimonial - WENDY
Jamie was recommmended to me from someone in the house moving business. It was my first time using Jamie and have just booked him to do another house move for me next week.
Jamie communicates well, did the job smoothly, swiftly and efficiently
5-Star Moving Testimonial - Sarah
Excellent moving service who fitted in a job for me at very short notice. Their manner and communication was professional and courteous right the way through and they did the job carefully and efficiently, despite one of the items being the heaviest they'd ever had to move. I was impressed.
5-Star Moving Testimonial - Priscila
Jamie and Conrad were great. They did the packing and unpacking in just over 3 hours. They were polite and cheerful the whole time. Great team. Will definitely call them again when I move to my new home.
5-Star Moving Testimonial - Sandy
Jamie and his crew pulled us out of a difficult situation when our booked movers just didn't arrive - despite being a Friday and having to work late into the night they moved us in a cheerful, helpful and professional manner. I would highly recommend this team to anyone who needs reliable movers at good value.
5-Star Moving Testimonial - Rebecca
Jamie and his team were incredibly helpful, friendly and fast. I would absolutely use Pro Moving services if I move again.
5-Star Moving Testimonial - Russell
Jamie from Pro Moving Services provided an excellent service at a competitive price. They had all the packing materials required, were careful and efficient. No breakages! We would definitely recommend them!
5-Star Moving Testimonial - Sam
The 2 guys turned up on time and very extremely helpful and smart, moved everything efficiently and with care, couldn't ask for much better service
5-Star Moving Testimonial - Shirley
It was a last minute move and I found the company very helpfull 
They made it very easy as I was working and trying to organize the move 
They worked with me on timing and that took the stress out of having to organize everything 
I would definitely recommend this company 
5-Star Moving Testimonial - Vanisha
Awesome service. Jamie's team we're friendly and really approachable. They took care with all of our items on and off the truck. They knew what they were doing and had the appropriate equipment to get the job done in a really quick fashion! Even the queen sized beds that were upstairs with a tight corridor to navigate. Would definitely use their services again. Great competitive price as well. Thanks again team!
5-Star Moving Testimonial - Robyn
Highly recommend Jamie and Conrad. Recently used their services and found them excellent in every way. They were helpful, courteous, caring and genuinely worked hard to move all our household. Nothing was too much trouble and we have to move again in 10 months into our new home and will be using them again. 
5-Star Moving Testimonial - Redford
Jamie and team did a great job for us, were extremely flexible as we weren't 100% sure how many trips from house to house we would need. They got the job done with minimum fuss.
Am getting Jamie back to do another small move later in June.
Would recommend 100%.
5-Star Moving Testimonial - Yvette
Jamie and his team made themselves available at very short notice. They showed up on time and moved everything so quickly and effectively it made moving day a lot easier for everyone. They made short work of multiple flights of stairs without complaint and then produced a bill that was extremely reasonable. They'll be first on my list for our next move 
5-Star Moving Testimonial - Tristan
We used Jamie/Pro moving Services to move from the North Shore to Hobsonville Point. Our property had a steep drive with tricky access, but Jaime and his crew had no problems. They stored our belongings overnight before delivering them to our new property in Hobsonville Point. It was a great service, and I would not hesitate to recommend Jamie and his crew
5-Star Moving Testimonial - Jess
Have used Jamie & his team multiple times as a business after a recommendation from someone who has used them in the past. Always on time, efficient and get the job done without wasting time.
5-Star Moving Testimonial - Janice
Jamie and Conrad were fantastic 
Would definitely recommend to everyone needing an Auckland mover 
How to Reduce Some of the Stress When Moving House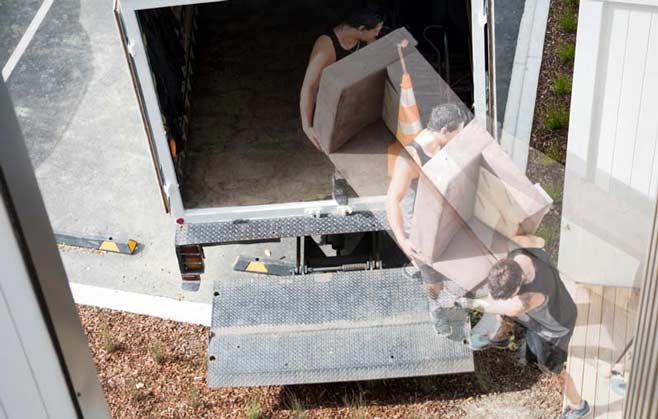 Moving house? Make a detailed packing list.

Take time to go through your belongings and have a clear out. You can make up a box for charity and if you have time - log on to an online auction site and sell your items on there. You can then put the proceeds of your sold goods towards some redecorating or new carpet.

It's best to start this one early, so try to sell items as soon as you know you will be moving house.

Calculate how many boxes you will need when moving and get these well in advance. Find boxes in a variety of sizes to accommodate all manner of household goods. Think about what else will be useful such as strong tape and bubble wrap.

There is nothing more stressful than having missing pieces after moving - If you'll be taking furniture apart, find some self-seal bags for keeping nuts and bolts together. You can even draw a small diagram or note down where the bolts went.

Once you have all that done, simply tape the sealed bag onto your furniture. Once all your furniture has been moved into your new home, you'll have all the bits within easy reach to put your furniture back together.

Don't completely fill large boxes as they will be too heavy to move by you or your movers. It's better to have a few more lighter boxes than a couple of heavy ones.

Use sturdy packing boxes particularly for heavier items or your belongings my end up strewn all over the driveway when moving. Boxes made from corrugated cardboard are stronger than regular ones. You can usually find these at supermarkets make sure they are clean. Or you can contact Pro Moving Services, we have new boxes for sale.

Check that your contents insurance will cover damage and breakages when moving house.

Use empty suitcases for clothing from wardrobes, clothes in drawers can be left in them. It will save you time packing and unpacking before and after moving.

When moving, make sure to put all hazardous materials such as paint, bleach and aerosols into a separate box and keep them away from the rest of your stuff.

This is to ensure that no chemicals spill onto your valuables during transit or cause harm to the movers.

Unless you pack light or moving over several days you won't be able to unpack everything in the first day so it's worth deciding what you might need easy access to soon after you cross the threshold of moving to your new home.

If possible finish any laundry well before you move to avoid packing damp clothes. Keep a separate box/bag for dirty washing.

Take some time to think about how you are going to pack your possessions. Books are easy but heavy, valuables need careful wrapping and will take time and some furniture may need to be dismantled.

Start early! Packing always takes longer than anticipated when moving house, particularly when you start reminiscing over old photographs.

Begin at the top of the house and move downwards.

Always pack heavy items in small boxes it will make transporting them easier. Also, keep the weight of all boxes to a minimum to avoid any back injuries by you or the movers.
Pack one room at a time before moving, clearly labelling each box with details of its contents and the room to which it belongs.
Clearly label boxes that contain breakables also those that are load-bearing and can be stacked in the van so the movers can be prepared.
Keep all boxes for each room together - this will save time unpacking after moving.
It may sound obvious but it's easy to forget in the flurry of activity when moving house; pack heavier items on the bottom of the box and lighter items on the top.
Wrap items individually and place in a box that's been lined with towels or blankets. This is a great way of packing your extra linen. Pillows and blankets are also useful for wrapping valuables and protecting furniture prone to dents and scratches. Our movers are very careful though!
Any breakables should also be wrapped in bubble wrap.  Use clean tissue or wrapping paper for the first layer to prevent newspaper print leaving marks when moving.
Pack important documents together such as birth and marriage certificates and keep them in a safe place. You don't want to be looking for these after moving!
Remember to have fun! It'll all be over soon and you'll be enjoying life in your new home before you know it!
Hire professional movers - when moving house you want to ensure that your goods are well looked after and care is taken to ensure that everything goes as smooth as possible.
See what our clients say about their favourite Auckland moving company. We're pretty confident you'll share their opinion once you try us!
I was very impressed with the guys from Pro Movers who arrived on time and worked incredibly hard. Items were packed efficiently and in such a way as to avoid movement. I will certainly be using them again! Highly recommended!
- Bronwen
Jamie and Conrad are the real deal – such great guys, and they super fast, professional, friendly and efficient. They helped me out at short notice, maintained good communication and made the whole move no-stress and easy for me. I have already recommended them to friends! Thank you Jamie + Conrad 🙂
- Sarah
Choose The Professional West Auckland Movers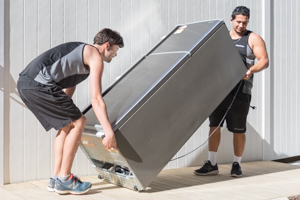 When you choose us, you'll get an experienced and reliable team who will do everything they can to ensure the experience of moving home is as stress and hassle-free as possible.
So, make sure you contact us for furniture and house removals in West Auckland and the North Shore.
Pro Moving Services is an expert house relocation and furniture moving company in Auckland. Whether you are moving close by or are moving across the city, we'll do all the heavy lifting.
Here's what you can expect from us:
• Friendly and hard-working team
• Modern and well-maintained removal trucks
• Safe working practices, particularly in relation to lifting heavy items
• Problem-solving abilities which is particularly important for large and awkward items
• Reliability – we'll turn up on time
• We'll treat your old home, new home, and possessions with respect
Local House Removals West Auckland
Not only do we provide an excellent quality of service, but we also keep our prices competitive. This is why householders choose us when they are looking for local and national budget house movers in Auckland.
We know that moving to a new house is a big undertaking, so we make sure the physical moving part doesn't come with a big price tag.
Premium West Auckland Furniture Movers
Our team has experience of all types of moving project, from moving families with young children to moving expensive antique furniture and art. You can trust us with your irreplaceable possessions, plus we are fully insured to offer you even further protection.
In addition, our team has experience moving heavy, large, and awkwardly shaped items of furniture and other items, including pianos. If you have items like this that will need to be moved to your new home, please let us know as soon as possible so we can put a plan in place.
Get in touch with the leading furniture mover company covering the North Shore and West Auckland areas to discuss your needs – call now.
Looking for Professional Removal Companies in West Auckland – Choose Us
If you are looking for professional and reliable moving companies in West Auckland or the North Shore, you've come to the right place. Pro Moving services offers a full range of services and has a reputation for being the best in the industry.
Our customers don't just choose us when they are looking for the best moving companies in West Auckland or North Shore, however, as we're also the number one choice when customers are looking for high-quality, comprehensive, reliable, and professional moving solutions.
Call 09 973 6901 today to get a quote.